#133 – Guardians of the Galaxy, Vol.2 and Lonely Gods
On this episode of the Reel World Theology Podcast: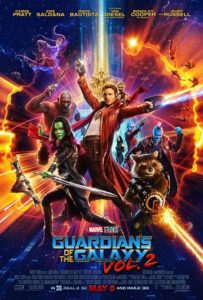 We tackle the second movie in the Guardians of the Galaxy series. After the first installment "rocket"ed to a surprise box office success, the second one had some pretty big shoes to fill– especially with us getting ever-closer to Infinity War. Did the second installment live up? Did it give us more to chew on than the first? Most importantly, did we enjoy ourselves as much as we did the first time? We discuss.
Download Episode 133 Here:
Reel World Theology #133 – Guardians of the Galaxy, Vol.2 and Lonely Gods
Reel World Theology on Stitcher
Reel World Theology on FeedBurner
Reel World Theology on Google Play
This episode's panel included Griffin Kale and Steve Norton:
Griffin Kale (@griffin_kale)
RWT Contributor
Taste Buds Take On
Steve Norton (@PastorStevePBC)
Screen Fish
Podcast Notes and Links:
Reel World Theology Discussion Group
Guardians of the Galaxy, Vol.2 at IMDB
Guardians of the Galaxy, Vol.2 at Rotten Tomatoes
Focusing on the Family in Guardians of the Galaxy, Vol.2 at Reel World Theology
Guardians of the Galaxy, Vol.2: An Atheist's God from Beyond the Stars at Christian Today
Guardians of the Galaxy, Vol.2 Review at Reel-Gospel
Guardians of the Galaxy, Vol.2's Small 'g' God at Think Christian
Guardians of the Galaxy, Vol.2 Review at Norville Rogers
Guardians of the Galaxy, Vol.2 Credit Scenes at Slash Film