#135 – Alien: Covenant and Standing in for God
On this episode of the Reel World Theology Podcast: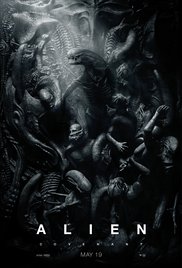 We finally get a chance to touch on one of the most famous sci-fi franchises in film history: Alien. What is it about this franchise that has captivated audiences for decades? What can we learn about Ridley Scott by his attempts to go back and revision the Alien universe? What questions is he asking? What answers does he offer? Does Alien: Covenant help or hurt the franchise? We have a lot to discuss on this one!
Download Episode 135 Here:
Reel World Theology #135 – Alien: Covenant and Standing in for God
Reel World Theology on Stitcher
Reel World Theology on FeedBurner
Reel World Theology on Google Play
This episode's panel included Paul Muzzin and Steve Norton:
Paul Muzzin (@riptidestudios)
Chasing Atlantis (@chasingatlantis)
Steve Norton (@PastorStevePBC)
Screen Fish
Podcast Notes and Links:
Reel World Theology Discussion Group
Alien: Covenant at IMDB
Alien: Covenant at Rotten Tomatoes
Alien: Covenant Review at Reel World Theology
Alien: Covenant Review at Cinemayward
Playing God in Alien: Covenant at Think Christian
Alien: Covenant is too muddled to pull off its deeply ambitious Satan allegories at Vox
Why Prometheus Deserves to be Taken Seriously at The Atlantic
Joss Whedon Reflects on What Went Wrong With Alien: Resurrection at Comic Book Movie