#150 – Death Note and Fear-Based Obedience
On this episode of the Reel World Theology Podcast: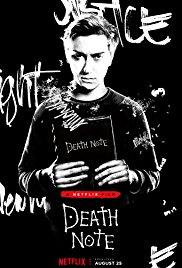 Merry Halloween! It's that time of the year where we take a look at a film that was a bit more on the odd or freaky side. While we all wish we had the hours to watch the actual Death Note series, the movie's premise is enough to keep us talking for days. We sit down to talk about what it means to play God and why we think we'd be any good at it. What will really change a human heart? There's a lot to dissect on this one!
Download Episode 150 Here:
Reel World Theology #150 – Death Note and Fear-Based Obedience
Reel World Theology on Stitcher
Reel World Theology on FeedBurner
Reel World Theology on Google Play

This episode's panel included Reed Lackey:
Reed Lackey (@reedlackey)
More Than One Lesson Podcast
The Fear of God Podcast
ReedLackey.com
Podcast Notes and Links:
Reel World Theology Discussion Group
Death Note at IMDB
Death Note at Rotten Tomatoes