#152 – Only the Brave and Connection Through Pain
On this episode of the Reel World Theology Podcast: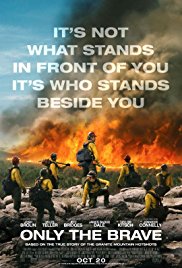 We take some time to talk about one of the biggest surprises of the year. As surprisingly good as Only the Brave is, it seems to have been mostly skipped by audiences who were either turned off by the generic-looking trailer or the fact that it is in fierce competition during one of the busiest times during the cinematic year. Either way, we talk about what we liked so much about it and how it's one of the most emotional movies we've seen this year.
Download Episode 152 Here:
Reel World Theology #152 – Only the Brave and Connection Through Pain
Reel World Theology on Stitcher
Reel World Theology on FeedBurner
Reel World Theology on Google Play

This episode's panel included Gene Gosewehr:
Gene Gosewehr (@WizrdofGOZ)
A Clear Lens Podcast
Podcast Notes and Links:
Reel World Theology Discussion Group
Only the Brave at IMDB
Only the Brave at Rotten Tomatoes
Only the Brave Review at Reel Spirituality