#155 – Star Wars: The Last Jedi and Subverting Expectations
On this episode of the Reel World Theology Podcast: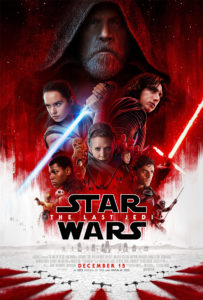 Once again the opening title scroll rolls and we are treated with another Star Wars film. This time, we see audiences again heavily divided between those who were able to go and enjoy another installment in the franchise and those fans dedicated to disliking everything no matter what. I kid (slightly). We bring in the big guns from Home One Radio to break down what we saw, what we missed, and how it affects the Star Wars Universe's characters and themes moving forward.
Download Episode 155 Here:
Reel World Theology #155 – Star Wars: The Last Jedi and Subverting Expectations
Reel World Theology on Stitcher
Reel World Theology on FeedBurner
Reel World Theology on Google Play

This episode's panel included Josh Crabb and Blaine Grimes:
Josh Crabb (@HeyItsThatJosh)
Home One Radio
Blaine Grimes (@dept_of_tourism)
Home One Radio
Podcast Notes and Links:
Reel World Theology Discussion Group
Star Wars: The Last Jedi at IMDB
Star Wars: The Last Jedi at Rotten Tomatoes
Star Wars: The Last Jedi at Metacritic
Star Wars: The Last Jedi Review at Reel World Theology
#050 – Star Wars: The Last Jedi First Reactions at Home One Radio
#051 – Star Wars: The Last Jedi Story Arcs at Home One Radio
Star Wars: The Last Jedi Review at Cinemayward
Star Wars: The Last Jedi is Risky, Explosive, and Beautifully Brazen at C&PC
Star Wars: The Last Jedi Review at Every Movie Has a Lesson