Who We Are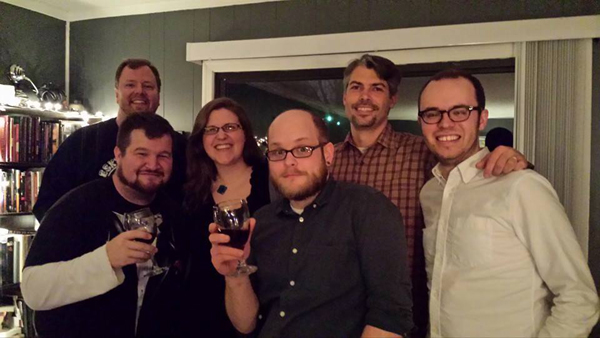 Here at Reel World Theology, we love to get others involved in the conversation… the more people are involved, the more reviews and discussions we can have. Here you will find anyone who has helped us dive into entertainment over the years. Please check out their work and support them– or just drop them a note to let them know how much you love them!
Mikey "Fizz" Fissel: Creator/Editor-in-chief/Producer, Reel World Theology
Fizz is the creator of Reel World Theology. With the understanding that today's movie theaters have become modern day pulpits, he currently does his best to avoid simply referring to films as "good" or "bad" and tries to get to the heart of a story while better acknowledging the artistic and creative decisions that make story telling great. Through this outlet he has hosted live film discussions, taught informal classes, and spoken at conferences on watching films and TV without turning off your brain.
Fizz currently resides in Greensboro, NC with his wife Laura, son Jon Luke, and a gaggle of amazing friends. When he is not recording podcasts (which he is often doing), he can be found binge watching TV shows, discussing sports, playing music, having people over to his house, taking walks with his wife, and trying to be clever on Facebook. Follow him on Twitter or Letterboxd.
Fizz's work at Reel World Theology
Joshua Crabb: Managing Editor/Producer, Home One Radio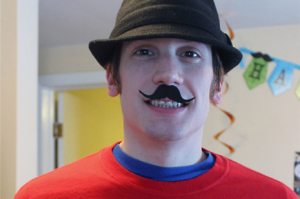 Josh is an editor for Reel World Theology. He is convicted that the movies and TV shows we watch are not just mindless entertainment but are preaching something to us. Every time we tune into the big screen or small screen we can keep our minds and our hearts turned on to analyze and determine what those stories are telling us. You can find him writing weekly here at Reel World theology, co-hosting the Star Wars Podcast Home One Radio, and using his voice as a sometimes contributor to the Reel World Theology podcast.
Josh currently resides in Appleton, Wisconsin and is a husband to Tina, father of four, a church planter with Converge Great Lakes, writer, Star Wars and The Simpsons fanboy, English Football junkie, and cinephile. Follow him on Twitter or Letterboxd.
Josh's work at Reel World Theology
Gene Gosewehr: Managing Editor
Gene is a husband, father, preacher of the Gospel, and grower of magnificent facial hair. Formerly the creator and administrator of LetThereBeMovies.com, Gene and many of his writers joined forces with Reel World Theology in January 2016 to expand both audiences and champion the message that entertainment is not mindless. He hopes to shed light on the numerous ways in which a secular industry like Hollywood still manages to tell stories revealing a heart searching for truths of life that can ultimately only be satisfied in God.
Gene finally obeyed the call of the Gospel after two years at Purdue University where he got his degree in Land Surveying and Geomatics Engineering. He now sets up shop in Lebanon, IN with his wife and three children. In the spring and summer months you'll find him coaching no less than two baseball/softball teams and managing a Jr. High baseball league. He also writes and podcasts at AClearLens.org, a site dedicated to teaching the Christian worldview through apologetics. Follow him on Twitter or Letterboxd.
Gene's Work at Reel World Theology
Blaine Grimes: Lead Writer/Producer, Reel World: Review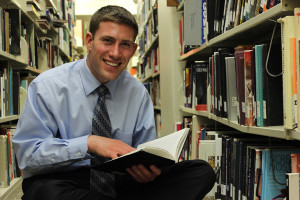 Blaine Grimes is a producer of the Reel World: Rewind podcast for Reel World Theology. He currently teaches English courses at a couple of universities, and he loves to write about film whenever has the the opportunity.
Aside from watching, talking, and writing about movies, Blaine enjoys reading (about movies more often than not), board-gaming, and nerding-out in various and sundry ways. For example, just say the word and he will gladly get into a heated debate about why Superman is the greatest superhero of all time. He also has a real soft spot for introspective Cold War spy literature. Follow him on Twitter.
Blaine's Work at Reel World Theology
Blake I. Collier: Columnist/Producer, The Body| The Blood Podcast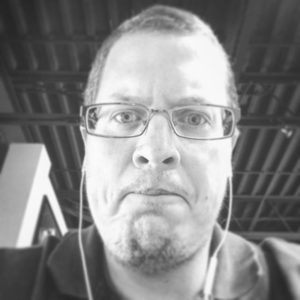 Blake writes a bi-monthly column for RWT entitled "Oh! The Horror…" where he searches out the many intersections of faith and the horror genre. He also produces the podcast,  The Body|The Blood, for RWT. You can find more information about the podcast and its hosts at The Body| The Blood.
Aside from writing and producing podcasts, Blake works full time as a draftsman for a small architecture firm in Amarillo, TX. Outside of horror, his cultural interests find their fulfillment in late 80s/early 90s hip hop, Southern Gothic literature and British crime dramas and comedy. You can find any and all of Blake's writing at his website and you can interact with him on Twitter.
Blake's Work at Reel World Theology
Reel World is also a wealth of talented contributors and guests. Makes sure you check them out–