#107 – Stranger Things and the Radical Pursuit of a Loving God
On this episode of the Reel World Theology Podcast: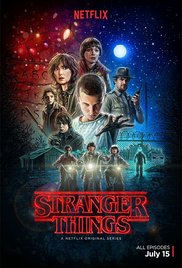 After giving you an episode-by-episode breakdown of the hottest show of the Summer (maybe year?), we get our writers together to talk about Stranger Things at even greater length! There is so much going on in this show that we still had plenty to unpack and dive into. So much more than a walk down nostalgia lane, Stranger Things explores parenthood, fear, isolation, growing up, and gives us a couple great metaphors for faith.
Download Episode 107 Here:
Reel World Theology #107 – Stranger Things and the Radical Pursuit of a Loving God
Reel World Theology on Stitcher
Reel World Theology on FeedBurner
Reel World Theology on Google Play
This episode's panel included Blake Collier and Mark Wingerter:
Blake Collier (@SacredLetDown)
Oh! The Horror Series
Blake I Collier Website
Mark Wingerter (@markwingdinger)
Writing:
Re-View Series
Podcast Notes and Links:
Stranger Things at IMDB
Stranger Things at Rotten Tomatoes
Stranger Things Series Review at Reel World Theology
The Magnetism of the Exiled Soul to Stranger Things at Mockingbird
How Stranger Things Re-Enchants the World at Christianity Today
Video: Stranger Things Film References Side by Side Comparison at Slash Film
All of Your Stranger Things Questions Answered (To Some Extent) at Slash Film
Podcast: Play in new window | Download