#143 – Dunkirk and Theater as Religious Experience
On this episode of the Reel World Theology Podcast: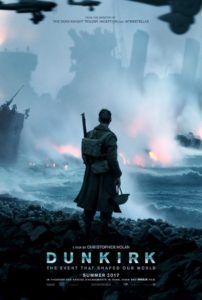 Christopher Nolan is back at it and now louder than ever! That's right, Nolan is bringing his flair for making films pure theater experiences back after his trip to the future with a trip to the past. Much has been made of his new film, Dunkirk, and it certainly has left an impression with some people lauding it for it's immersive style and others just wanting them to turn the volume down a bit. Either way, it's quite the experience.
Download Episode 143 Here:
Reel World Theology #143 – Dunkirk and Theater as Religious Experience
Reel World Theology on Stitcher
Reel World Theology on FeedBurner
Reel World Theology on Google Play
This episode's panel included Joel Mayward and Jason Potnick:
Joel Mayward (@JoelMayward)
Cinemayward
Jesus Goes to the Movies: The Youth Ministry Film Guide
Jason Potnick (@ryndaria)
Ryndaria.com
Podcast Notes and Links:
Reel World Theology Discussion Group
Dunkirk at IMDB
Dunkirk at Rotten Tomatoes
Dunkirk Review at Reel World Theology
Dunkirk Review at Cinemayward
Dunkirk Review at Reel Spirituality
Dunkirk Review at Reel-Gospel
Dunkirk and the 'Just' War Movie at Pop Theology
Is Dunkirk Too Loud? at Indie Wire
Why Christopher Nolan Will Never Work With Netflix at Cinema Blend