#144 – Detroit and When the Gospel Gets Political
On this episode of the Reel World Theology Podcast: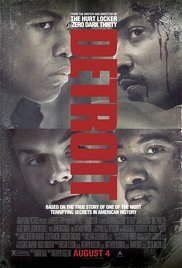 Detroit is a movie that has received positive reviews overall but has incited a mixed response from audiences of different backgrounds. Does Detroit serve a larger purpose to remind us of the atrocities of racism in our country or does it ring hollow by focusing on the wrong parts of the story? In light of recent events in our country, what kind of conversations could a movie like this help start between people of all races? We explore.
Download Episode 144 Here:
Reel World Theology #144 – Detroit and When the Gospel Gets Political
Reel World Theology on Stitcher
Reel World Theology on FeedBurner
Reel World Theology on Google Play
This episode's panel included Emmanuel Noisette and JR Forasteros:
Emmanuel Noisette (@EmansReviews)
Eman's Movie Reviews
JR Forasteros (@jrforasteros)
JRForasteros.com
NorvilleRogers.com
Podcast Notes and Links:
Reel World Theology Discussion Group
Detroit at IMDB
Detroit at Rotten Tomatoes
When the Center Does Not Hold: The Problem With Detroit at Reel World Theology
Detroit Review at Eman's Movie Reviews
Detroit and the Problem With Watching Black Pain Through a White Lens at Huffpost
Should White Filmmakers Be Telling the Story of Detroit? at Variety
Race, the Gospel, and the Moment at The Gospel Coalition
The Case for Reparations at The Atlantic