#147 – The Big Sick and a Different Type of Love
On this episode of the Reel World Theology Podcast: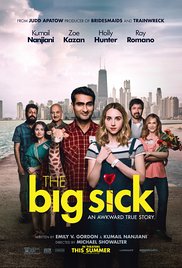 One of the best things about doing this podcast is finding films you truly connect with that maybe didn't have huge theatrical runs or huge opening weekends but are still among the year's best. The Big Sick was just that. Hitting two genres we rarely get to cover (comedy and romance), the movie has both laughs and heart. What can we take away from this one? Well, it only seems appropriate to have some of the guys from Feelin' Film on this one.
Download Episode 147 Here:
Reel World Theology #147 – The Big Sick and a Different Type of Love
Reel World Theology on Stitcher
Reel World Theology on FeedBurner
Reel World Theology on Google Play

This episode's panel included Aaron White and Jeremy Calcara:
Aaron White (@aaronElWhite)
Feelin' Film Podcast (@FeelinFilm)
Jeremy Calcara (@jayinlincoln)
Feelin' Film Podcast (@FeelinFilm)
Podcast Notes and Links:
Reel World Theology Discussion Group
The Big Sick at IMDB
The Big Sick at Rotten Tomatoes
The Big Sick Review at Reel Spirituality
The Big Sick's Ministry of Presence at Think Christian
The Big Sick is a Rom-Com About A Broader Kind of Love at Christianity Today