#149 – Blade Runner 2049 and the Lord of the Replicants
On this episode of the Reel World Theology Podcast: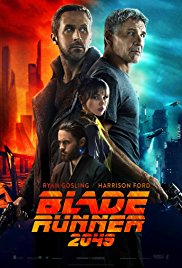 We blend the old with the new by talking about a sci-fi classic being continued with a new, but familiar, vision. We have some die-hard Blade Runner fans on to talk about the impact of the original and how it shaped their expectations going into the long-awaited sequel. Does it live up to expectations? Did we even need a sequel? We talk about the questions and stylings of the latest sci-fi epic from Denis Villeneuve.
Download Episode 149 Here:
Reel World Theology #149 – Blade Runner 2049 and the Lord of the Replicants
Reel World Theology on Stitcher
Reel World Theology on FeedBurner
Reel World Theology on Google Play

This episode's panel included Aaron White and James Harleman:
Aaron White (@aaronElWhite)
Feelin' Film Podcast (@FeelinFilm)
James Harleman (@harlemanic)
www.cinemagogue.com (@cinemagogue)
YouTube Channel
The Book:
Cinemagogue: Reclaiming Entertainment and Navigating Narrative for the Myths and Mirrors they were Meant to Be
Podcast Notes and Links:
Reel World Theology Discussion Group
Blade Runner 2049 at IMDB
Blade Runner 2049 at Rotten Tomatoes
Reel World: Rewind #21 – Blade Runner
Blade Runner 2049 Review at Reel World Theology
Feelin' Film Episode 079 – Blade Runner 2049
Blade Runner 2049 Review at Reel Spirituality
Blade Runner 2049 Isn't a Sci-Fi Masterpiece, But It's Trying Really Hard to Replicate One at VOX