#151 – Thor: Ragnarok and Shifting the Tone
On this episode of the Reel World Theology Podcast: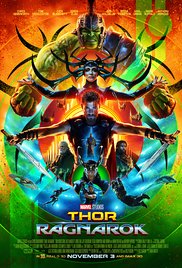 It's finally here! Thor: Ragnarok has to be one of the most anticipated MARVEL films to date– not to mention that it's easily the most anticipated Thor film to date. With Taika Waititi at the helm, the possibilities were endless (for both fun and heart). Did it deliver? Was there a whole lot to take away from this one besides the humor, or, much like Guardians of the Galaxy, was this one made to be enjoyed and not thought too hard about? Most importantly, what does this film lead us to expect from the future of the MCU?
Download Episode 151 Here:
Reel World Theology #151 – Thor: Ragnarok and Shifting the Tone
Reel World Theology on Stitcher
Reel World Theology on FeedBurner
Reel World Theology on Google Play

This episode's panel included James Harleman and Matt Anderson:
James Harleman (@harlemanic)
www.cinemagogue.com (@cinemagogue)
YouTube Channel
The Book:
Cinemagogue: Reclaiming Entertainment and Navigating Narrative for the Myths and Mirrors they were Meant to Be
Matt Anderson (@manderson555)
The Sci-Fi Christian (@scifichristian)
Comic Book Time Machine
Podcast Notes and Links:
Reel World Theology Discussion Group
Thor: Ragnarok at IMDB
Thor: Ragnarok at Rotten Tomatoes
Thor: Ragnarok and Laughing Through the End at Reel World Theology
Thor: Ragnarok's Prophetic Call to Confession at Think Christian
Thor: Ragnarok was 80% Improvised at Slash Film
Kevin Feige Addresses What Happened to the Warriors Three at Slash Film