#154 – Coco and God Defined Family
On this episode of the Reel World Theology Podcast: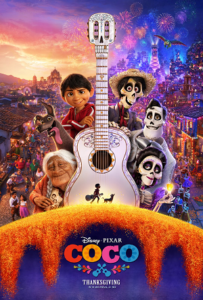 Our next Pixar film has dropped and, not surprisingly, people are loving it. However, some people are really loving it while others are simply enjoying it. We take a look at what Pixar did differently this time to tell a story that is deeply cultural. We also talk about family, its importance in the film, and what it looks like to be a part of God's family… oh yeah, we also talk about that animated short.
Download Episode 154 Here:
Reel World Theology #154 – Coco and God Defined Family
Reel World Theology on Stitcher
Reel World Theology on FeedBurner
Reel World Theology on Google Play

This episode's panel included Amber Kenneson and Hannah Lorence:
Amber Kenneson
Artwork by Amber
Hannah Lorence (@hannitachula)
Hannah Lorence Blog
Podcast Notes and Links:
Reel World Theology Discussion Group
Coco at IMDB
Coco at Rotten Tomatoes
Coco Review at Reel World Theology
Coco Review at Reel Spirituality
Coco Review at SDG
Pixar's Coco Points Out the Potential Dangers of Following Your Heart at Relevant